30 Nov

November 30 – John Nelson's Book Reading & Waterfowl at Cherry Hill [Indian Hill] Reservoir

Date: Saturday, November 30
Time: 9:00 am – 11:30 am
Meeting Location: First parking area you encounter on Moulton Street in West Newbury – look for the Newburyport Birders' A-Frame sign

John will read from his new book, & copies will be available to purchase & signing. Flight Calls: Exploring Massachusetts through Birds.
by John R. Nelson is a perfect gift for the birders on your holiday list this season.

The Cherry Hill [Indian Hill] Reservoir is a perfect setting for waterfowl viewing. This public water source hosts Ruddy Duck & Ring-necked Duck. Other species that can be seen here are Pied-billed Grebe, American Coot, merganser, scaup, Bufflehead, the occasional Canvasback and Redhead.
Flight Calls: Exploring Massachusetts through Birds
by John R. Nelson
"Flight Calls is somewhere between a personal memoir, a true-life adventure, and a birder's personal journal. In addition, anyone reading this book will surely be impressed with Nelson's grasp of literature, both ornithological and historic."- Wayne R. Petersen, author of the American Birding Association Field Guide to Birds of Massachusetts

"This is an entertaining account of the world that local birds inhabit as well as the unique breed of Homo sapiens that chooses to spend its free time chasing down and identifying birds. Through Nelson's descriptions and explorations of local bird habitats, readers will come to appreciate the biological diversity of the state and region."- John Hanson Mitchell, author of Ceremonial Time: Fifteen Thousand Years on One Square Mile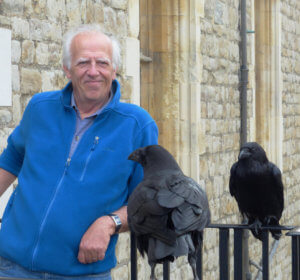 John Nelson is a longtime director of the Brookline Bird Club & chairs the club's Conservation and Education Committee. In 2016, he organized the Association of Massachusetts Bird Clubs. John serves as a director of the New England journal Bird Observer & is a Councilor of the Essex County Ornithological Club.  A professor emeritus at North Shore Community College, John has published widely in both literary & birding magazines, including "Raven Knowledge" in the Autumn 2018 issue of The Gettysburg Review. He was awarded a 2018 Pushcart Prize for his essay "Funny Bird Sex" in The Antioch Review.